Princess Ivory Lace Blush Pink Tulle Flower Girl Dress
Size Chart
This dress is made of ivory lace on the outside with princess tulle skirt;
The back with decorative buttons, color matches the tulle skirt;
Sweetheart neckline, we can make it with straight neckline if you need;
Custom color / custom size / custom design are

available

.
How to Measure
Bust
This is not your bra size, when measuring you must wear a bra. Relax your arms down at the sides. Take the tape across the fullest part of your bust and around your back.
Waist
This is the natural waistline, which is also the smallest part of your waist. Typically it's about an inch above your belly button.
Hips
Please measure the widest part of your hips, across the hipbone, which is approximately 7 inches below the natural waistline. This measurement is not needed for full gowns.
Hollow to Floor
This is the length from your hollow (the hollow just under your neck) to your heels. Barefooted, stand upright with your feet close together when measuring.
Inside Sleeve
Start the tape in your armpit and measure your straight arm to the wrist.
Arm Width
Relax your arm and measure around the fullest part of the upper arm.
Shipping
Shipping policy can be found here: /policies/shipping-policy
Couriers
Depending on your destination, we use USPS, DHL, UPS, or EMS for fast and trackable delivery.
Locations We Ship To
We ship to over 200 countries and regions worldwide. Some of our most popular destinations are United States, United Kingdom, Germany, Canada, France, and Australia.
Shipping Time
Wedding Dresses / Flower Girl Dresses
Receiving time (Time needed for you to receive the order after payment) = Tailoring time (around 13-15 working days) + shipping time (around 3-8 working days)
Wedding Party Dresses, Formal Dresses & Special Occasion Dresses
Receiving time (Time needed for you to receive the order after payment) = Tailoring time (around 13-15 working days) + shipping time (around 3-8 working days)
Returns & Cancellation
At Princessly, we take your satisfaction seriously. Your returns are easy.
When your order arrives, we strongly recommend that you immediately check the items and make sure the dresses have been made to your order specifications. Try on the dresses as soon as possible without removing the tags, altering, or washing them.
If you are returning or replacing dresses or accessories, please make sure they are in their original condition - unworn, unwashed, unaltered, undamaged, clean, free of lint and hair and with tags intact and attached.
Return Policy
Make sure you read the Return Policy for this item.
Cancellation Policy
Make sure you read the Cancellation Policy for this item.
FAQs
What if my dress is not available?
If your dress is not in stock and for some reason we cannot make it, we will notify you and provide you with alternative options or you can cancel your order and get a full refund.
What if I want a dress in a color that is not listed?
The colors we list on the product details page are the only colors in which the dress is available.
Can I see the dress in other colors?
We have only certain colors for demo dresses so we may not be able to provide you pictures of dresses in your desired color.
Do you rent dresses?
Sorry we do not rent dresses.
Why is my order still processing?
Orders take 24-72 business hours to be determined with a ship date.
Can I get a dress with extra length?
Please email or call us with style number and we would get back to you. Some designer dresses can be made with extra length.
Why can I no longer find the dress that I found before?
Once an item reaches zero in stock and the manufacturer no longer produces it, it is removed from our website inventory thus no longer showing up in search results.
Who pays for the customs duty?
Customs duty are on buyer. For example, if you are buying from European countries like CA, UK, or FR, you will be responsible for paying any customs tariff applicable. Please understand this before you purchase from Princessly.
10-12 days to make plus 20-25 days for shipping.
Rush order available for $14.99 at checkout (7 - 10 days).
Fast and trackable delivery by USPS, EMS, UPS, or DHL. Returns are easy if you are not 100% satisfied.
Share photos of ordered items on Instagram, tag @princesslycom and #princesslycom and you will receive $30 refund back to credit card!
Customer Testimonials & Photos, 2018 - 2020
Customer Reviews
04/07/2020
Sarah P.
United States
Beautifully made
When the dress came in it looked exactly like the picture online. My only issue with it was the chest part was too low (it was a sweetheart neckline under the lace) in my opinion especially for a 4 year old. We were able to fix it and my daughter looked beautiful in it. Very happy with it.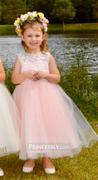 03/31/2020
Mackenzie B.
United States
07/21/2019
Kaitlyn M.
United States
I was highly impressed with the flower girl dress
I was highly impressed with the flower girl dress I ordered from princessly.com! I searched for weeks trying to find the perfect flower girl dress for my 15 month old and most places didn't offer sizes smaller than 2T. The dress fit her perfectly and was beautiful!! I will definitely recommend it to anyone looking for a a special occasion dress for their little girl!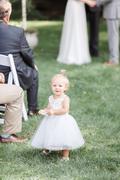 04/25/2019
Traci V.
United States
Flower Girl Dress
I LOVE how the flower girl dress turned out! Lisa at Princessly was very helpful and accommodating to what I wanted! I def recommend Princessly to everyone and all my friends!
04/12/2018
Samantha
United States
08/16/2017
Rach
United States
Very pleased
Loved the dress! It was a perfect fit for my 6 year old daughter, size 6 fit excellent, true to size. Loved the button down the back. I did feel as though the zipper was a little tough to get up and down but it did not break or anything, just have to be gentle. All in alll, I loved the dress, and my daughter felt like an absolute princess in it! We had many compliments on it . Thanks again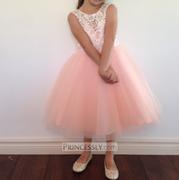 07/08/2017
Danielle
United States
Beautiful dress!
This is a beautiful dress. My 4 year old will be wearing it as a flower girl in August! We didn't need any alterations. I did however have someone pin the sweatheart neckline inside the lace so that it wouldn't fall down.
07/06/2017
Winsome
United States
Quality product
We ordered this for a wedding and I was extremely satisfied with the quality and style of the product. The underskirt was substantial not flimsy and really showed wonderfully in pictures. Color was true to the pic and size was accurate as well. I would absolutely recommend this product to another.
06/16/2017
Nicolle
United States
Perfect Flower Girl Dress!
My 2.5 year old daughter wore this dress as a flower girl last weekend in a friend's wedding. The dress was made so nice! The quality is great and fit her perfectly! We did attach the pink layer underneath to the white lace so it stayed put while my rambunctious daughter danced and ran around. She can't wait to wear her princess dress again!
04/18/2017
Molly D.
United States
The dresses were gorgeous!
I ordered two of these dresses for my 3 year old twin nieces to wear as flower girls in my wedding. While my nieces are twins, one is actually an inch taller than the other, so we measure them according to the size charts on the site, and when they arrived they were an absolute perfect fit!!!!! We ordered the blush pink and ivory dresses and the color was a perfect match for the photo. They shipped quickly and when we received them we hung them up and they never needed to be steamed or pressed. The dresses were beautiful and we received many compliments. The girls never complained that the dresses were itchy or uncomfortable! Highly recommend. also we received fabulous customer service.